About Us
Companies need to keep pace with market needs and technological advances for staying relevant in business. We, Varahi Engineers And Fabricators, knowing this well, adopt an innovative work approach and adapt to changes in trends as we offer a host of machinery for size reduction and powder processing. We stand out in the crowded marketplace as a manufacturer and exporter with our range of precisely engineered Vibro Sifter, Ribbon Blender, Jaw Crusher, Industrial Pulverizer, Air Lock Valve, etc.
We implement novel ideas from time to time, streamline our work methods in tune with changing technology, and launch products adhering to international standards. This is why our positive brand reputation in the market has been intact since 1996.
We have created this site as a part of our digital marketing endeavors of boosting our business presence in the online platform so that customers in need of our machinery can locate us easily and get hassle free deals on our range at all times.
Our Team
With our company being famed as innovative and people-friendly, we have managed securing top talent from diverse fields who today work as a part of our dynamic team. Our professionals remain ever committed to our goal of catering to market needs with excellence and speed, therefore giving us a strong competitive edge, internationally. All our experts from various departments like engineering, quality control, R&D and sales work in collaboration following the most up to date manufacturing, marketing, supply chain and value creation, quality control and other strategies to give customers buying our products an extraordinary experience.
Our Technology
Our focus is on improving customer experience with quality products, economical product pricing and faster delivery & response times. To attain all these goals, we invest in a large manufacturing setup integrating the best production technologies. We also take the time to individually quality check each model of Vibro Sifter, Ribbon Blender, Jaw Crusher, Industrial Pulverizer, Air Lock Valve, etc., at the spacious testing unit adjoining this setup so that buyers only get unbeatable quality products from us.
Our Clients
By establishing ourselves as a reliable manufacturing and exporting firm, we have managed pleasing many clients from across sectors. A few of our longstanding patrons are:
Hindustan Gum
Hindalco Industries Ltd.
Larsen & Toubro
Rallis India Limited
Jay
Roha
Atul
Shree Pushkar Chemicals & Fertilisers Ltd.
ABS Foods Ltd.
Zydex
Ajanta Chemicals
Himadri
Standard
Mutuza Foods Pvt. Ltd.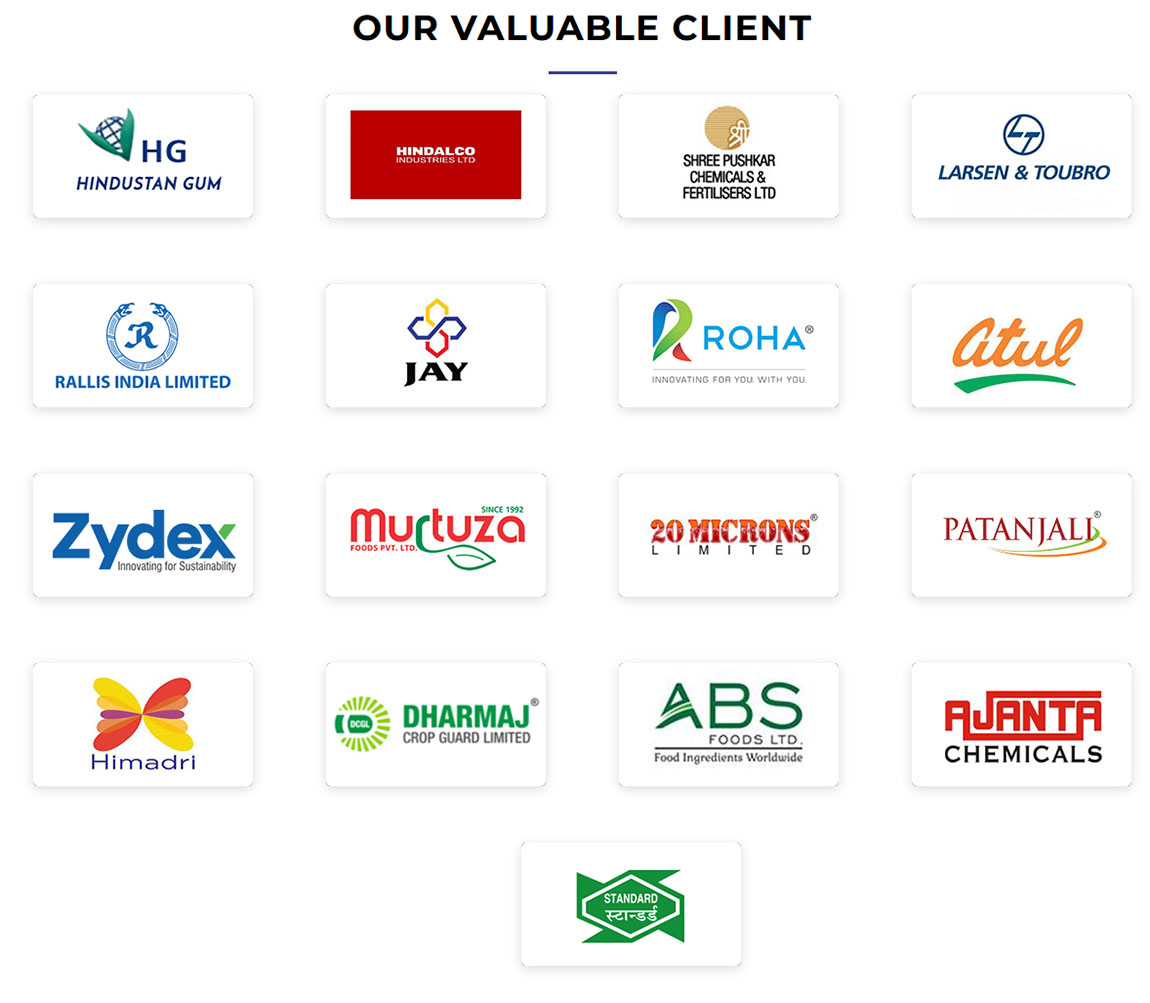 Read More